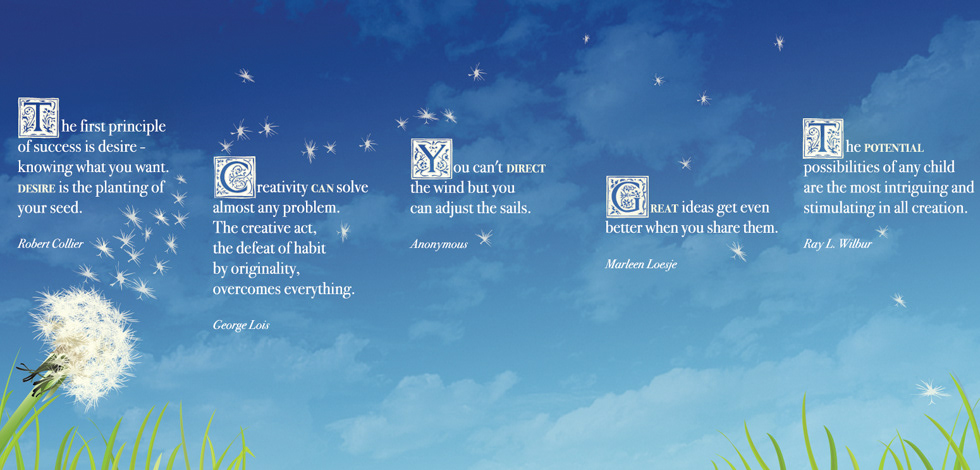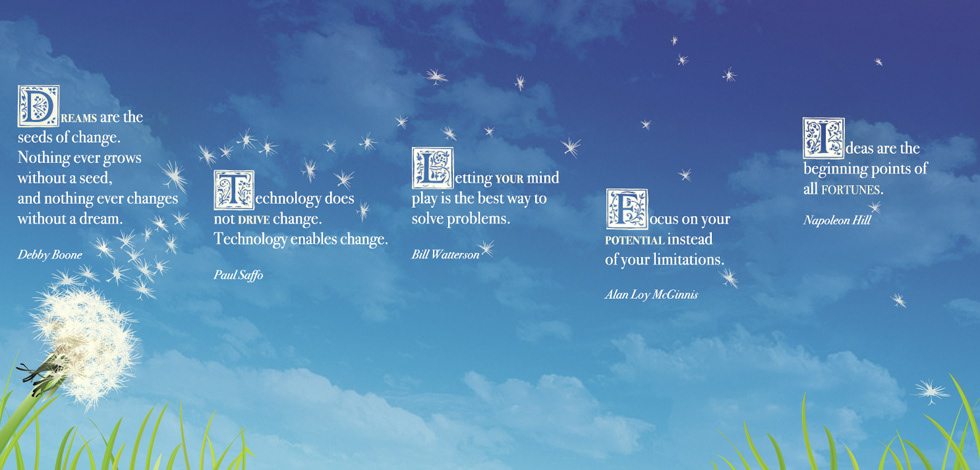 "Having enjoyed working with Damyon from Influence in the past we looked forward to building on our collaborative successes. There was always plenty of time to discuss everything in as much detail as we felt we needed, and we didn't feel rushed, or pushed in any direction."
John Sibbald, Manager
North West Manchester City Learning Centre
Project Overview

Design and development of a series of banners which physically filter light from skylights and audio between levels.  They carry inspirational messages and hidden meta messages to encourage development in a number of different areas creating positive legacy.


Process
i) The environment within which the solutions needed to work symbiotically was photographed and measured so that scale drawings could be created with photographic reference. These were printed large format and copies thereof distributed to all concerned parties including design / build / manufacture/ NLP consultation.
ii) As many considerations as possible were made and addressed fromclient consultation.
iii) The practical needs of elements that were needed were measured andconsidered. Further debate followed re. all the necessary elements from which to develop an optimum solution.


Imagery
As we are primarily visually oriented this was an important decision.
Dandelion seeds blowing in the wind - evocative of capturing wishes/dreams fromchildhood.
Metaphorically these can also be interpreted as the pupils themselves, who highin the twilight sky seem to transform themselves into stars.
The whole process of going to flight and taking seed and growing drew strongcomparisons to the education process.
The dandelion can be viewed as a metaphor for education -rearing, developing nourishing and feeding the seeds which when ready arereleased, taken forward by the wind of life, they then come to seed themselves- a cyclical process.  As these banners will form ambient media theperception of them can wander and be interpreted differently from differentperspectives and levels.
The placement of the banners leading to skylights meant that the sky texturelead to the sky above.


Quotations
These were researched with careful consideration to the target markets' demographics / politics / race / religion / age.
From this deeper understanding underlying key messages were developed, which relate to the imagery being used formed the initial message:
 
Encouraging cross fertilisation of ideas amongst the group.
Encouraging symbiotic relationship between technology and creativity.
Encouraging different ways of problem solving.
Encouraging pupils to aspire to optimize their potential.
Encouraging teachers who train there to become ambassadors to Abraham Moss CLC and what it promotes.

These being established and approved literally hundreds of quotes were sourced and then filtered into the various sections. Through research, working closely with Nigel Magowan (highly respected Neuro Linguistic Programming Practitioner who trained under the inventor of NLP) I came to understand specific 'rules' which enable optimum absorption by the target market, so a secondary filtration process further 'shortlisted' there appropriateness.
People either generally aim for success/pleasure or move away from failure/pain, or a mixture of these two drivers.  Subsequently it was determined that the key messages should be written/resourced in these fashions capturing the entire market.
It was also important that the chosen quotations were short, positive and present tense for maximum impact.
Working with Nigel Magowan, together we ensured these were phrased correctly.

The concept of developing a positive hidden message that would stick in peoples' minds grew during this process, and it was concluded that by marking out a word on each banner as you look down the row it creates another sentence.
The conscious mind reads the five banners sequentially and the subconscious mind picks up on the 'hidden message', designed to leave positive legacy.

The first set of five banners reveal that
'DREAMS DRIVE YOUR POTENTIAL FORTUNES'

The reverse series continues from this
'DESIRE CAN DIRECT GREAT POTENTIAL'

These messages feed each other cyclically.


Graphics
The method of completion is aspirational to the pupils using highly skilled vector illustration techniques in Illustrator and treatment of imagery in Photoshop - both being taught and used in the environment.
The imagery was drawn in Illustrator using multiple layers with transparencies building up gradient fills until the desired look and feel was achieved. The dandelion seeds themselves are also semi transparent to enable the background to subtly show through. They are illustrated in a 'broad brush stroke style' so that from the distance they willbe viewed they still carry detail.  The sky texture was initially treated in Photoshop with a gradient overlay and then placed in Illustrator with a number of different transparencies and gradients to achieve the magical luminosity I strove for.
The first letter of each quote was scanned in from resourced 'Early Advertising Art' and then made into vector graphic.
From here it was treated in Photoshop to give it the antique printed feel,further enhancing an almost 'Narnia' / 'Harry Potter' essence.
The typography was set with a flowing rhythm and balance to which the scenes subject matter lead itself to.


Production
M2 fire rated heavy duty banner PVC printed on a Mimaki JV3 solvent based printer at 1440 dpi using 5-7 year UV stable inks.
Banner was finished with machine stitched hems and pockets for durability.